Major General Khaled Fouda, the Governor of South Seenaa, received at his office in Al-Tur Governorate, Prof. Mona Mehrez, Deputy Minister of Agriculture for Animal, Poultry and Fisheries Affairs, Dr. Kamel Mostafa Amer, Head of the Regional Office of the Arab Organization for Agricultural Development (AOAD) in the Arab Region and Dr. Sayed Salem AOAD Animal Health Expert.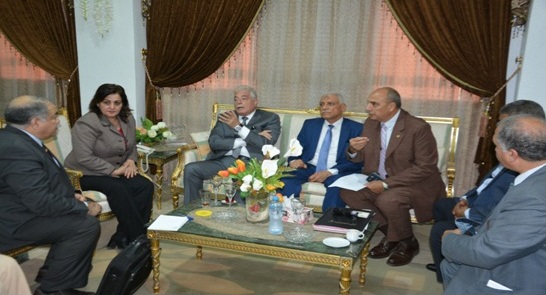 During the meeting, they discussed a number of important issues of mutual interest, exchanging ideas and views and the role played by AOAD in the field of agriculture and its contribution to achieving food security, in addition to the implementation of many activities such as the establishment of industrial lakes in St. Catherine.
In conclusion, the two sides stressed the importance of cooperation between AOAD and the governorate in the fields of water, agricultural, animal and fish to serve the people of the governorate, especially animal breeders in addition to the development of Bedouin women.
It's worth mentioning that AOAD has constructed (203) mountain lakes in the St. Catherine area of South Sinai Governorate at a total cost of about 8.5 million Egyptian pounds, in the context of developing technologies and methods of harvesting and developing water resources for the benefit of the residents of South Sinai and contributing to the provision of the necessary water for seed production in St. Catherine.