The Arab Organization for Agricultural Development (AOAD) concluded at its headquarter in Khartoum on Wednesday, 3/4/2019, the activities of the training course on Agricultural Entrepreneurship in the field of identifying and limiting investment opportunities and preparation of preliminary studies of small and medium investment projects. The course took place from 31/3 to 3/4/2019. The participants were 35 trainees from the Graduates Employment National Bureaui n Sudan.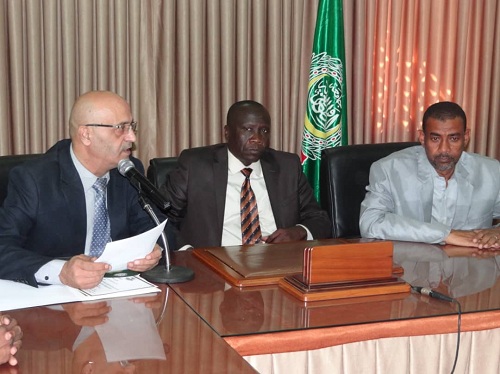 The closing day of the course was marked by the presence of the Sudanese State Minister of the Council of Ministers H.E Mr. Khalid Hassan Ibrahim and the Director of Training, Studies and Consulting Department and the Acting Director General of AOAD H.E Eng. Raed Fayez Hattar and the Director of the Sudanese Graduates Employment National Bureau H.E Mr. Bakhit Hadi.
H.E Mr. Khalid briefed the graduates in his speech, and said that Sudan Government has put plans to finance a number of projects for young people and new graduates in line with the government's policy and the directives of the wise leadership of the Republic of Sudan.
Moreover, H.E Mr. Khalid pointed out Sudan's government efforts to continue the joint programs and activities between AOAD and Sudan through the implementation of many activities related to agricultural development, especially activities related to support and strengthening the capacities of young people and graduates in the field of agriculture. He also praised the efforts of AOAD in the field of agricultural development and agricultural entrepreneurship and its increasing role in raising the capacities of young people and graduates enabling them to implement projects that serves the community and support agricultural production through identifying investment opportunities to achieve the goals of the partnership between the AOAD and the Sudanese National Employment Agency.
On the other side, the Acting Director General of AOAD Eng. Raed Hattar, spoke about the role of AOAD in the field of agriculture and the training course and its objectives. He thanked the State Minister for honoring the graduation ceremony by his presence, which demonstrated the great interest paid by the leadership and the Government of Sudan to youth support programs and noted the readiness of AOAD to provide all the necessary support to the Government of Sudan in this field and other fields that support sustainable agricultural development in Sudan.
It is worth mentioning that the course aimed to prepare a database on investment opportunities in the field of small and medium business by training the cadres of specialists and providing them with skills, which enabled them to identify investment opportunities and the preparation of investment project proposals to enable young employers to choose what suits them from projects in all fields, especially agricultural ones.