H.E Prof Ibrahim Adam El Dukhiri, the Director General of the Arab Organization for Agricultural Development (AOAD) participated in the Second Meeting of the Good Agricultural Practices in the Arab Region for Jordan. This came in the framework of enhancing cooperation and coordination with counterpart organizations in various issues of sustainable agricultural development and food security.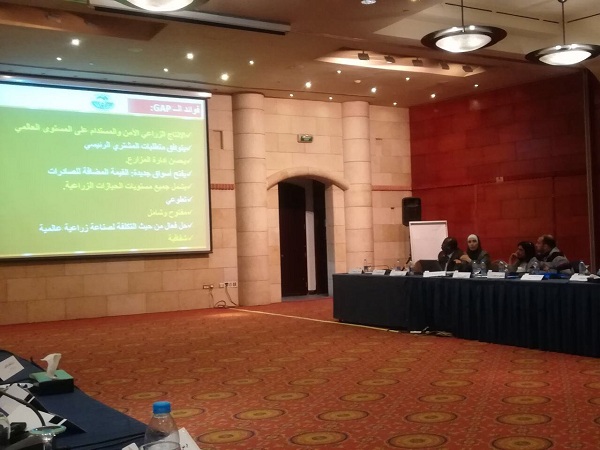 The meeting was held under the patronage of H.E Eng. Khalid Hanifat, the Jordanian Minister of Agriculture. Participants were about 50 participants from Jordan. They represented all sectors concerned with good agricultural practices (Ministry of Agriculture, Farmers Union, Associations and Private Sector).
The meeting discussed important topics including the good agricultural practices from a regional and international perspective. Moreover, the meeting discussed the general framework, the experiences of countries, international organizations and the private sector in this area. In addition, the requirements and standards of the good agricultural practices, certifications and licenses were also discussed.
The AOAD presented two papers on the Arab Good Agricultural Practices (GAPs) and the Arab efforts to promote good agricultural practices and successful experiences.
This meeting is part of the regional project to enhance food and water security through cooperation and capacity development in the Arab region. This is implemented by the Economic and Social Commission for Western Asia (ESCWA) in cooperation with the AOAD, the Arab Center for the Studies of Arid Zones and Dry Lands (ACSAD), the Regional Office for Near East and North Africa of the Food and Agriculture Organization of the United Nations (FAO) and the relevant regional organizations.