The Director General of the Arab Organization for Agricultural Development (AOAD), H.E Prof. Ibrahim Adam El Dukhiri, received in his office at AOAD headquarters the International Fund for Agricultural Development (IFAD) and the United Nations Industrial Development Organization (UNIDO) representatives. The meetings came in the context of H.E Prof El Dukhiris' efforts to create partnerships with counterpart organizations to eradicate hunger and achieve sustainable agricultural development and Arab food security.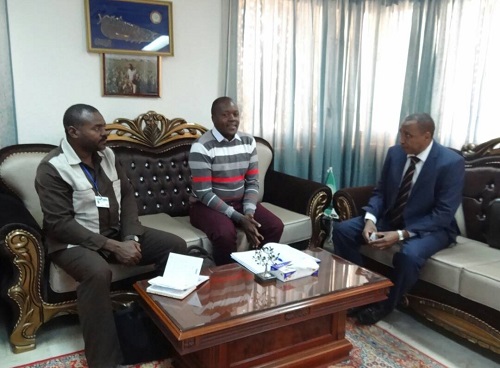 H.E Prof. El Dukhiri discussed with IFAD representative the means of enhancing the cooperation between the two organizations and the possibility of promoting the rural women activities that increase their income. Moreover, both sides discussed the channels of cooperation in the fields of studies and consultations.
UNIDO delegation meeting with H.E Prof El Dukhiri discussed the efforts of the two organizations in the field of small rural industries, such as food conservation processes, protection, reduction of losses, storage, etc. Beside defining standards and food safety measures in the Arab world. UNIDO representatives expressed their desire to collect the data related to the value chain for the Oil sector.
At the end of their meetings both organizations expressed their desire to cooperate with AOAD in all aspects related to their work.