The State Minister of Future Food Security in the United Arab Emirates H.E Ms Mariam Mohammed Saeed Harib Al Muhairi met the Director General of the Arab Organization for Agricultural Development (AOAD) H.E Prof. Ibrahim Adam El Dukheri, on the 28th of February 2018 at her office in Dubai in the International Center for Biosaline Agriculture in Dubai. Both sides exchanged views on the struggles that are facing the achievement of sustainable food security in the Arab region. Moreover, they added that it requires great efforts for setting prosperous policies, taking into account all the dimensions associated with the availability, obtaining and regularity of food. That needs the efforts of all concerned partners, nationally and regionally.
In this context, H.E Prof. El Dukheri mentioned that AOAD will always offer its long experience in the field of agricultural development and food security to its member countries, particularly the United Arab Emirates, to help formulate, implement, monitor and evaluate sound policies to achieve food security objectives, both nationally and regionally.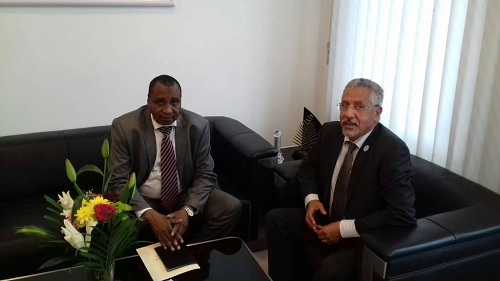 H.E Prof. El Dukheri had a meeting with H.E Dr. Abdulwahab Zayid, the Agricultural Advisor at the Ministry of Presidential Affairs and Secretary General of Khalifa International Date Palm Award and Agricultural Innovation. Both discussed the means of cooperation between the award and the AOAD and the need to establish effective partnerships. Currently, AOAD in collaboration with other international and regional partners, are launching a major program for the development of date production in the Arab region. Finally, they discussed the ongoing preparations for the joint celebration, in the 19th of March 2018 dedicated to the initiative of their joint cooperation.