On February 26, 2018, the Director General of the Arab Organization for Agricultural Development (AOAD) H.E Prof. Ibrahim Adam El Dukheri visited the United Nations Industrial Development Organization (UNIDO), the Arab International Entrepreneurship Program office in Bahrain. Both sides signed an agreement on providing expertise for entrepreneurial projects for the Arab region especially those related to agriculture and the environment.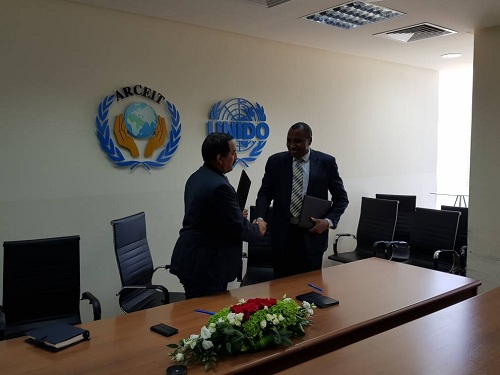 H.E Prof. El Dukheri praised the efforts exerted by UNIDO to promote entrepreneurship and innovation, stressing the importance of coordinating efforts to achieve the sustainable development of the Arab region. This is achieved through entrepreneurship programs, especially in the agricultural and environmental fields contributing to the development of Arab capacities for establishing small and medium agricultural projects.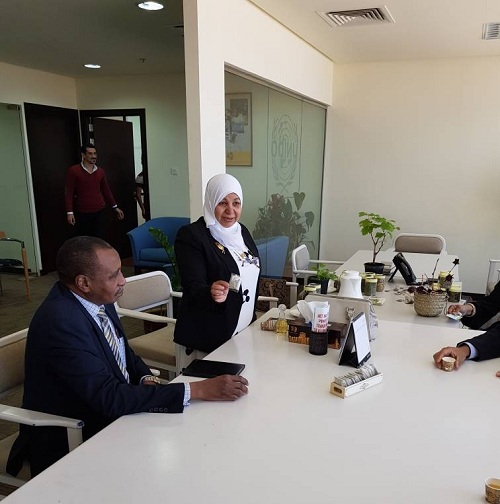 On the other side, H.E Dr. Hashim Sulaiman Hussain, head of UNIDO Investment and Technology Promotion Bureau, said that the United Nations has included the Entrepreneurs program as an essential tool for development. He stressed that the experience of agricultural entrepreneurs has proved to be successful in Bahrain and other Arab countries.
This agreement came within the context of the efforts exerted by H.E Prof. El Dukheri to strengthen cooperation between the AOAD and regional and international partners in empowering youth in the Arab region to benefit from the available capacities and expertise of these organizations in the field of small and medium enterprises. As well as technical support, capacity building and other activities.
At the end of the visit, H.E Prof. El Dukheri was briefed on some of the successful experiences of the entrepreneurship program in Bahrain for some women working in the field of planting, drying and marketing medicinal and aromatic plants.