The Bahraini Minister of the Municipality Affairs and Agriculture H.E Eng. Essam Khalaf received at his office on the 24th of February 2018 the Director General of the Arab Organization for Agricultural Development H.E Prof. Ibrahim Adam El Dukhiri.
H.E Prof El Dukhiri briefed H.E Eng. Khalaf on the future plans of the AOAD in supporting the agricultural development in the Arab countries, especially in the field of establishing effective partnerships with the member countries and regional and international organizations.
He added that AOAD upgrades the content of the Food Security Annual report and the Annual Statistics reports of the Arab countries. Beside supporting the Arab countries to achieve the SDGs 2030, especially the goals related to the agricultural sector, by including them in the annual AOAD work plans. The plans are prepared basically on the programs included in the Arab Sustainable Agricultural Development Strategy for the next two decades (2005-2025).The AOAD periodic reports also cover Arab countries achievements.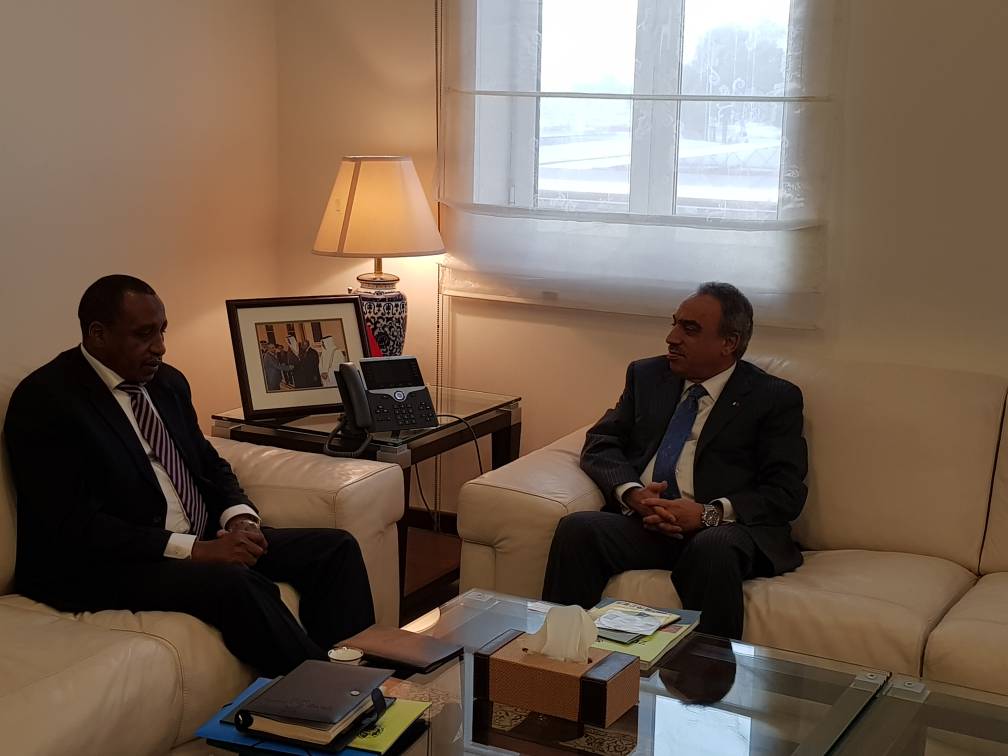 H.E Eng. Khalaf expressed his satisfaction regarding the efforts exerted by AOAD in assisting the Arab countries in achieving sustainable agricultural development. He also thanked the Government of Sudan for allocating a land to Bahrain for agricultural investment.
H.E Eng. Khalaf gave a brief on the agricultural sector in Bahrain, which was famous for the agricultural progress, that declined over time. He stated that the Ministry is currently working through the National Initiative for Agricultural Development. The initiative is under the auspices of Her Highness Sheikha Sabeeka bint Ibrahim Al Khalifa, Chairman of the Consultative Council of the National Initiative for Agricultural Development. The initiative is about developing the agricultural sector in Bahrain through focusing on introducing modern technologies that contribute to production increment in terms of quantum and quality, such as hydroponics, tissue culture and other modern technologies.
Both sides agreed on holding technical meetings between AOAD and the concerned departments in the Bahraini Ministry of Municipality Affairs and Agriculture.