The League of Arab States launched on the 21st till the 23rd of January 2018 the first media conference. The conference promoted the achievements, activities and programs of the Arab organizations. It was under the patronage and presence of H.E Mr. Ahmed Aboul Gheit, the Secretary General of the League of Arab States.
The conference aimed to introduce the role of the joint Arab institutions. Moreover, the conference promoted and highlighted their achievements, work and activities as the Arab experience houses. The fields were sustainable development, food and water security, administrative development, employment, tourism, culture, information and communication technology. In addition to achieving the developmental strategies of the Arab countries and achieving the sustainable development goals 2030 in the Arab region.
The Assistant Secretary General for the Economic Affairs of the League of Arab States, Ambassador H.E Mr Kamal Hassan Ali, pointed out that this conference is the first of its kind, which seeks to find mechanisms to activate the media role. Moreover, to increase the interaction of the Arab media with the activities and programs of the League of Arab States, its organizations and specialized councils.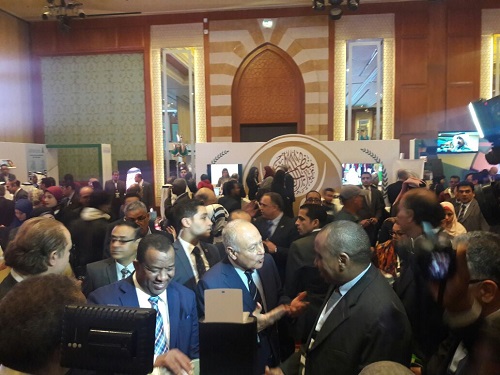 The exhibition reflected all the activities and programs of the specialized Arab organizations, the bodies and the associations of the League of Arab States. H.E Prof. Ibrahim Adam El Dukhiri, the Director General of the Arab Organization for Agricultural Development received the Secretary General of the League of Arab States at the (AOAD) section. H.E Prof El Dukhiri gave a brief about the AOAD's activities during its 45 years of work in the field of the sustainable agricultural development and the Arab food security.
Such events support the spirit of cooperation between the joint Arab institutions and contribute to creating partnerships in the field of joint Arab action achieving the desired objectives.