The Liaison Officers of the Emergency Program for Arab Food Security held their 6th meeting; phase II (2017-2021) at the headquarters of the Arab Organization for Agricultural Development (AOAD) in Khartoum, Sudan, from the 19th to the 20th of November 2019.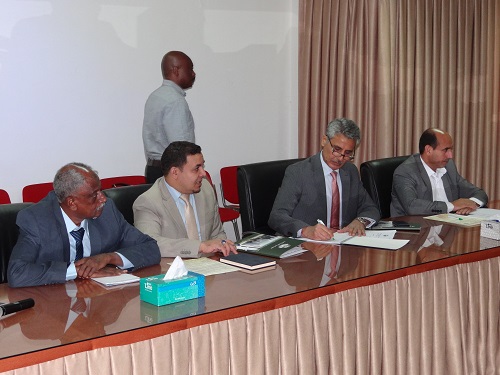 At the opening session, the Acting Director of the Technical Programs Department addressed the meeting on behalf of AOAD Director General H.E Prof Ibrahim Adam El-Dukheri. He thanked the liaison officers for their efforts and wished the meeting success and to achieve its objectives. He praised the efforts exerted by the member Arab countries of the emergency program on the achievements made in their countries within the framework of the various components of the program, noting that these efforts implemented by the countries resulted in a decline in the value of the Arab food gap from about (35) billion dollars in 2015 to about (33) billion dollars in 2018, and this indicates that there are efforts being implemented to seek the reduction of the Arab food gap.
It is worth mentioning that the meeting discussed the country reports and the ways to develop their preparation. The liaison officers that participated in the meeting were from Jordan, Algeria, Saudi Arabia, Sudan, Iraq, Egypt and Morocco.