The Arab Organization for Agricultural Development (AOAD) Director General, H.E Prof. Ibrahim Adam El Dukheri and his accompanying delegation participated in the Global Ministerial Conference on Green Economy on the sidelines of the World Green Economy Summit held in Dubai on October 21, 2019,in the presence of H.E Dr. Thani bin Ahmed Al Zeyoudi, the Emirati Minister of Climate Change and Environment, H.E Mr Saeed Mohammed Ahmed Al Tayer, the President of the World Green Economy Organization (WGEO), and a number of leading figures from several international and regional organizations.
The conference included a speech by H.E Mr Ghazali Othmani, President of the Republic of Comoros, in which he stressed the importance of the transition to a green economy for the countries of the South. He also witnessed the holding of a series of important ministerial meetings and special seminars.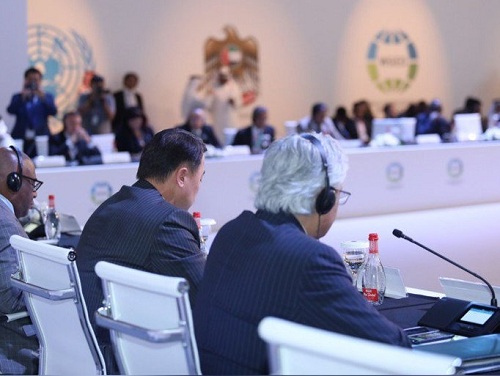 A high-level panel discussion was held with the participation of H.E Prof. El Dukheri, H.E. Zamirbek Askarov, the Deputy Prime Minister of the Kyrgyz Republic, H.E Fatima Zohra Zerouati, the Algerian Minister of Environment and Renewable Energies of Algeria, H.E. Dr. Mohammed Mubarak bin Dainah, the Chief Executive Office of the Supreme Council for Environment in Bahrain, H.E Demetrio do Amaral de Carvalho, the Minister of Environment in East Timor Republic, Mr Mohammad Abunayyan, chairman of ACWA Power and the Chairman of the World Green Economy Organization (WGEO) Private Sector Platform, H.E. Mr Jonathan Young the Chairperson of the Economic Development, Science and Innovation Committee in the Parliament of New Zealand and H.E Mr. Attila Zenye the Minister of Agriculture in Hungary.
The dialogue was chaired by H.E Ms Sitara Ayaz, Chairperson of the Senate Standing Committee on Climate Change in the Senate of Pakistan.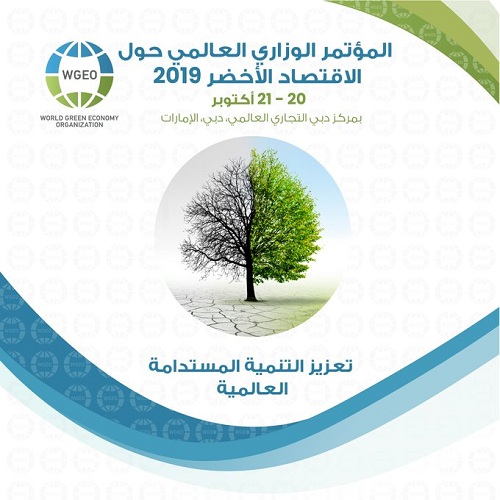 The Global Ministerial Conference on Green Economy is an ideal strategic platform launched by the World Green Economy Organization in collaboration with the United Nations to replicate successful green economy solutions by engaging countries in a regional context and deepening the impact of the global transformation towards a green economy, to promote based green economy solutions that meet the needs of the countries in relation to the implementation of the UN Sustainable Development Agenda 2030.
On the sidelines of the event, the official inauguration of the Middle East and North Africa Regional Cooperation Center (MENA RCC) took place, which will be based in the Emirate of Dubai, which is part of the joint efforts of the World Green Economy Organization and the United Nations Convention on Climate Change.