H.E Dr. Thani bin Ahmed Al Zeyoudi, the Minister of Climate Change and Environment of the United Arab Emirates, received at his office on Saturday, 19 October 2019, H.E Prof. Ibrahim Adam El Dukheri, the Director General of the Arab Organization for Agricultural Development (AOAD).
The two sides reviewed the current situation and future prospects for the development of joint Arab action in the fields of food security, agricultural development and environmental protection. They also discussed the areas of cooperation and ways of enhancing and developing them, in addition to the issues related to food safety in the Arab countries.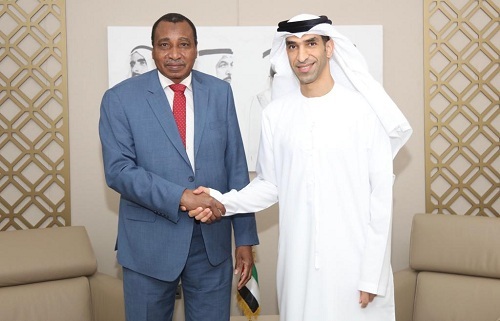 H.E Prof. El Dukheri gave a briefing on AOAD regional office in the Arabian Peninsula, which will be based in Kuwait, and is currently being prepared for its opening in the coming days, and is expected to be a platform for launching new initiatives for cooperation and interaction between AOAD and the countries of the region, nationally and regionally.
The Minister discussed the ongoing preparations for the 13th Dubai Food Safety Conference, which will be held this year under the slogan "Global Partnerships: Future Prospects '' during the period from 10-12 November 2019. He explained that this annual conference is concerned with improving standards food safety and quality in the Arab Region.
H.E Prof. El Dukheri praised the conference, which is one of the most prominent regional and international platforms that discuss issues related to food safety and quality accompanied by many sidelines events. He stressed that AOAD will sponsor and organize a seminar on agricultural products safety and in conformity with the food safety standards to promote agricultural products trade among Arab countries within the activities of the conference.