The Director-General of the Arab Organization for Agricultural Development (AOAD) H.E Prof. Ibrahim Adam El Dukheri, visited Mauritania on the 29 of July 2019. During his visit he met with H.E Minister of Rural Development and H.E the Director General of the Deposit and Development Fund and signed an annex to the agreement reached between the three parties in December 2018, concerning the management of milk processing units donated by AOAD to the ministry.
It is worth mentioning here that the annex states that the ministry and AOAD will donate the two milk processing units to the fund.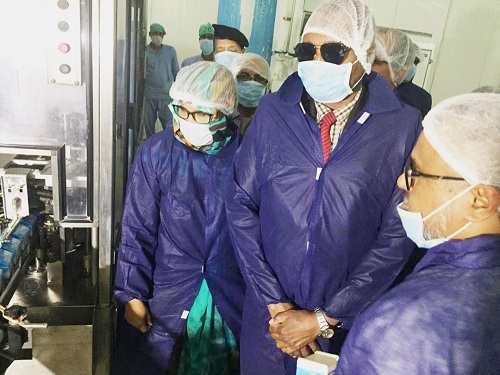 During the meeting, the parties discussed the cooperation between AOAD and the ministry and means of enhancing it, especially the preparation of the third phase of the transboundary animal diseases project, in addition Anbekt Hawash project.
H.E Prof. El Dukheri visited the dairy factory of the National Dairy Company, which is the largest dairy producing company in Mauritania. He and the Minister of Rural Development also inspected the various branches of the company and its industrial facilities. The delegation was impressed by this remarkable model of private investment in the dairy industry in Mauritania and stressed the need to provide the necessary support.