The Director General of the Arab Organization for Agricultural Development (AOAD) H.E Prof. Ibrahim Adam El Dukheri, and his accompanying delegation participated in the second edition of the Arab Sustainable Development Week, during the 19th to the 22nd of November 2018 in Cairo, Egypt. The Arab Sustainable Development Week was organized by the League of Arab States in cooperation with the United Nations Development Group, the World Bank and the Egyptian Ministry of Planning, Follow-up and Administrative Reform.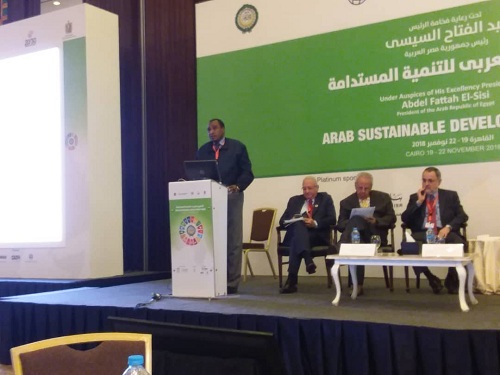 The objective of the week was to support the plans that aimed to achieve the Sustainable Development Goals (SDGs) in the Arab region and activate the role of the companies to work towards achieving the most important goals for the Arab society's future.
During the opening session, H.E Prof El Dukheri presented a working paper on "The role of AOAD in assisting its member countries in eradicating hunger in the Arab region." This paper was discussed in detail at the session devoted to the elimination of hunger in the Arab region.
The sessions of the week included discussions of effective partnerships and sustainable financing, in addition to discussing sustainable development in conflict-affected countries, addressing the demographic situation, achieving sustainable development goals, launching the climate initiative, discussing renewable energy issues, establishing peaceful societies in conflict areas, and adopting the dialogue and the role of the private sector in achieving the SDGs and the report of the Organization for Economic Cooperation and Development.
The week witnessed a strong and effective participation from decision makers at the highest levels of leaders and directors of international, regional, and Arab organizations, representatives from the private sector, international and Arab finance institutions, as well as a number of parliamentarians, heads of educational and technological institutions, innovators, leaders of civil society organizations and the media.