The Director General of the Arab Organization for Agricultural Development (AOAD) H.E Prof. Ibrahim Adam El Dukheri, met H.E Dr.Qu Dongyu, the Director-General of the Food and Agriculture Organization of the United Nations (FAO) on Monday, 14 October 2019, at the headquarters of FAO in Italy, to discuss ways of strengthening the partnership between AOAD and FAO, in the presence of Mr. Mustafa Saadi Abbas Al-Jubouri, the Representative of the League of Arab States to FAO.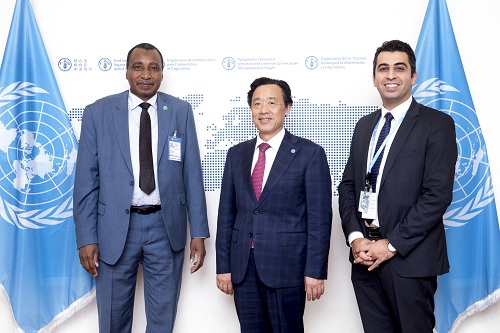 Both sides agreed to continue on strengthening the cooperation in several regional initiatives, in particular the water scarcity initiative, which is a vital issue in the Near East and North Africa region, in order to achieve more realistic and sustainable solutions and achieve the SDGs.
The two sides discussed the food security situation in the Arab region and the possibility of developing an action plan to join the efforts of the AOAD and FAO within the framework of the memorandum of understanding signed by both of them, moreover examine the mechanism of action regarding the future opportunities of mutual interest AOAD and FAO, including the modernization of the region's food system and G20 issues and the establishment of an effective roadmap for joint activities in the region.
H.E Dr. Dongyu introduced the new FAO "Hand in Hand" initiative, which was welcomed by H.E Prof. El Dukheri and outlined the important role of cooperation within the Initiative and the possibility of cooperation in the implementation of the South-South Cooperation Agreement.