The Arab Organization for Agricultural Development (AOAD), represented by its Regional Office for the Arab Mashreq, participated in the National Workshop on "Gender Empowerment and Entrepreneurship Development in Rural Areas" organized by the United Nations Economic and Social Commission for West Asia (ESCWA) on the 20th of November 2019 in Amman, Jordan. It came as part of the Regional Initiative to promote Small – Scale Renewable Energy applications in rural areas of the Arab region (REGEND).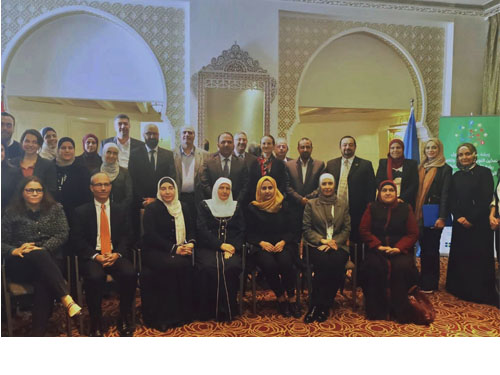 The workshop aimed to emphasize the importance of rehabilitation and training in all the stages of production and awareness of youth in universities and linking universities to the private sector, in addition to work on updating and developing policies and legislation in line with the different Arab policies and awareness to biodiversity in the field of studying any site and emphasize the importance of different statistics in all stages of the project. During the workshop, AOAD was praised regarding the great role played by its Arab Women Network in rural, nomadic and coastal communities. A summary was presented on AOAD activities, networking and collaboration with energy and water experts in rural communities and various associations were encouraged to publish their data on the AOAD website.
It is worth mentioning that the workshop was attended by 40 participants from various parties, including the Arab Union for Food Industries, AOAD, the Swedish International Development Cooperation Agency (SIDA), the United Nations, a number of institutions related to the Ministry of Energy, Agriculture, Planning and Social Development and the Agricultural Research Center, in addition to a number of university students.