H.E Prof. Ibrahim Adam El Dukheri, Director-General of the Arab Organization for Agricultural Development (AOAD), participated in the celebration of the World Day to Combat Desertification in Egypt. The Desert Research Center held the celebration under the theme "Land is a real value ... Invest it" under the auspices of H.E Dr. Ezzel Eldeen Abusetet the Egyptian Minister of Agriculture and Land Reclamation. Participants were from different bodies and personalities who were interested to encourage investment in desert lands and the rehabilitation of degraded lands in order to create employment opportunities and increase income and food security globally.
The celebration included a film about the (Desert Research Center) and a training course in combating desertification and a presentation about the Egyptian experiment in sand dunes.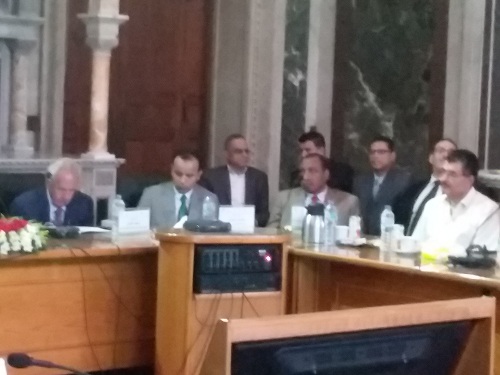 In his speech, the Egyptian Minister of Agriculture and Land Reclamation H.E Dr. Ezzel Eldeen Abusetet stressed the country's' interest in scientific research. He also said that the ministry had appointed the Desert Research Center as a national focal point for the UN Combat Desertification Convention to represent Egypt in this agreement.
It is worth mentioning that the United Nations General Assembly had launched the World Desertification Day to promote awareness. The United Nations Convention to Combat Desertification (UNCCD) is the only legal international agreement that links the environment and development to sustainable land management. In Goal 15 of the 2030 Sustainable Development Plan it is mentioned that (Protect, restore and promote sustainable use of terrestrial ecosystems, sustainably manage forests, combat desertification, and halt and reverse land degradation and halt biodiversity loss).