The Arab Organization for Agricultural Development (AOAD) with cooperation of the Qatari Ministry of Municipality and Environment organized a training course in the field of "Infectious Disease Outbreak Verification", from the 6th to the 10th of January 2019 in Qatar. The participants were (20) doctors, specialists and experts from the units of various departments in the department of Livestock (veterinary services, veterinary quarantines, animal production, veterinary laboratories).
The course aimed to enhance the participants' knowledge on the concept of infectious disease outbreaks and to use scientifically the methods which are approved globally to verify outbreaks that can affect livestock that will affect food security in the country. As well as urging the formation of the Rapid Response Team (RRT) and the implementation of field work.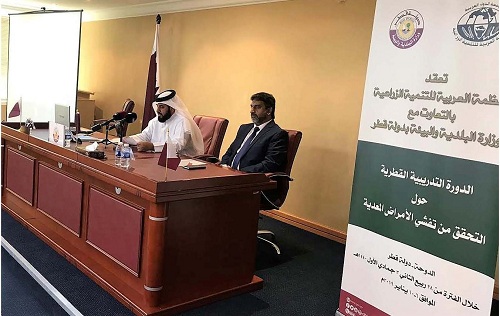 The course tackled the verification steps in infectious disease outbreaks, including preparation for diagnosis and identification of outbreaks, identification of disease status and search for common cases, descriptive epidemiological studies to determine characteristics of disease cases, changes in disease return over time, and differences in disease frequency over the basis of the site, the development of hypotheses about the cause or source, the assessment of assumptions and the improvement of hypotheses and the conduct of additional studies if necessary, the implementation of control and prevention measures.
The trainees were also introduced on how to configure the multi-speed rapid response team and the role of each team member in implementing the field work during the verification of outbreaks or epidemics. In addition to designing descriptive and analytical epidemiological studies during the outbreak to detect the source of the disease and the ways it spread, as well as identifying types of disease surveys and identifying and analyzing risks.