A training course in the field of "Water, Energy and Food Nexus" was held in Khartoum, Sudan on Wednesday 31st of October 2018 at the headquarters of the Arab Organization for Agricultural Development (AOAD). The course was in cooperation with AOAD and other international bodies such as the International Food Policy Research Institute (IFPRI), Humboldt University in Berlin, Germany and the University of Khartoum. The course came on the sidelines of the high level meeting on water, energy and food Nexus in Sudan.
The course aimed to define the concept of water, energy and food Nexus, tools and methodologies for evaluating and implementing Nexus strategies, identifying the challenges of applying Nexus approach in Sudan, understanding overlaps and trade-offs of Nexus sectors in Sudan, identifying Nexus opportunities at the national and subregional levels and also on the regional level which will enhance the sectors dialogue across integrated planning.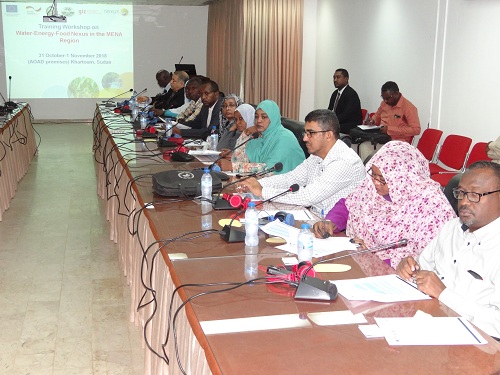 The course included several lectures on the concept of Nexus and its applications, resource security (water, energy and food), a general introduction and study on the assessment of water, energy and food correlations, evaluation of Nexus and governance and an introduction on the Nexus evaluation tools.