The Director General of the Arab Organization for Agricultural Development (AOAD), H.E Prof Ibrahim Adam El Dukheri, signed a Memorandum of Understanding (MoU) with the Group of German Federal Research Centers (Thunen) during a visit to the Group's headquarters during 25-28 June 2019. The signing comes in the framework of AOAD's directions for partnership with international agricultural organizations and institutions to benefit from their experiences in the field of technology and in implementation of Khartoum Declaration on Smart Agriculture launched by AOAD during 2018.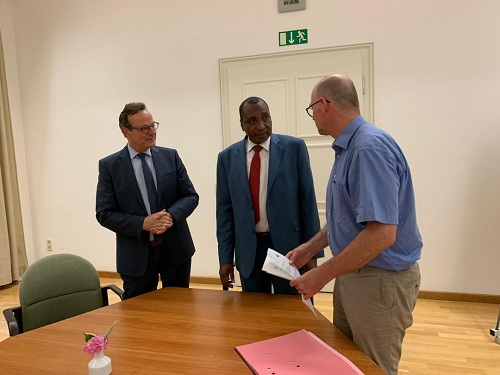 A coordination meeting was held with the Thunen 's experts to develop and start partnership with the Beef and Sheep Agri Benchmark, and to outline the document of a joint development project on the development of animal production in cattle and sheep in the Arab countries, including the development of administrative systems and technical procedures in the production chain according to the international standards and electronic system developed by the network experts in Germany.
AOAD delegation also discussed with the German side the approach between the data produced by AOAD through the Arab Network for Animal Genetic Resources for Animal and Food Animals with the European and global data on animal production and confirming its compatibility with the global system, which will facilitate the implementation of the electronic system of the global network in the Arab region. The two sides agreed to cooperate in the fields of transfer of modern technology and training Arab cadres on the Beef and Sheep Agri Benchmark system.