The Arab Organization for Agricultural Development (AOAD) inaugurated a training course in the field of "Animal Feed Formulation " from the 7th to the 11th of July 2019, in the Regional Office of the Arab Mashreq in Amman, Jordan, under the auspices of the Jordanian Ministry of Agriculture, represented by the Director of the Animal Production Directorate Eng. Hussein Mekdadi. The participants were 15 trainees from the different regions of Jordan and related to the livestock.
For many years, AOAD has been providing the Arab nation with scientific expertise and modern technologies. AOAD has carried out many training courses in the field of animal feed, as well as the identification and linking of all animal genetic resources to the environment in which they live. AOAD pointed out in its main technical reports the decline in the number of livestock in the various species of livestock in the Arab Mashreq region, estimated 7549.64 million head compared to the rate in previous years and this is a negative indicator, which necessitated those involved in animal production in the Arab region to draw attention to the importance of compensating the lack through the maximizing the production obtained from the head of one of the animals, whether the producer of meat or dairy or other animal products.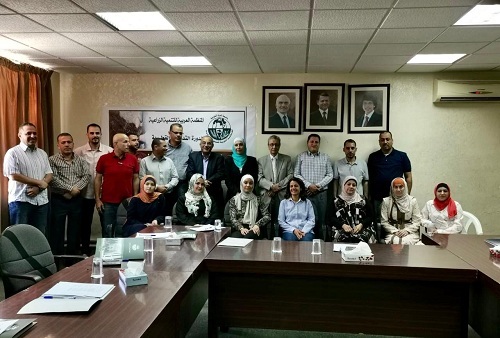 The importance of this course is to establish proper nutritional management concepts in terms of determining the actual nutritional needs of animals in order to maximize their productivity and reduce the waste of feed materials, which is considered to be scarce. It is important to note the importance of using traditional and locally produced feedstuffs to reduce the fodder bill, which may reach 70% of the total production cost.

It is worth mentioning that the course included a number of theoretical lectures and practical applications in the field of Animal Feed Formulation.